Lakes Entrance Offshore Charters - Crewed Boat Charter.
All Charters are by arrangement only and are especially planned for you and or your group when booked in advance as a private charter.

or email Sarn:
This email address is being protected from spambots. You need JavaScript enabled to view it.

or call 0434778275
Fishing Trips, Crabbing & Sightseeing Cruises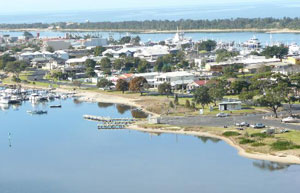 Lakes Entrance Offshore Charters offers skippered boat charters, fishing trips, crabbing as well as sightseeing charters, on board "SECA". We have a range of packages available for first time and experienced anglers, sightseers, families or mates on a day out.
Lakes Entrance Offshore Charters is a Commercial Boat Charter Business based in Metung on the Gippsland Lakes, near Lakes Entrance in southern Victoria.
You can depart from Metung or we can pick you up from the "Lakes Entrance skate park" off Bullock Island rd under the bridge in Lakes Entrance, otherwise from your Private Jetty by arrangement.
Lakes Entrance is the access point from the Gippsland Lakes into Bass Strait where we catch Snapper, Gummy shark, Flathead and a range of Ocean reef fish.
Lakes Entrance Fishing Charter, relax on the Gippsland Lakes or Venture Offshore.
We offer you a range of packages from Commercial Crew Transfers, to Offshore Fishing trips.
Or you can customise your own trip. Times and prices are a guide to help you select a trip or a combination of trips.
All are very welcome by your owner/skipper Sarn Eckhardt creating a fun, family friendly atmosphere.
Our Vessel SECA a custom modified 28ft power-cat, powered by twin 300hp 4 stroke engines. SECA is an extreme vessel modified for passenger comfort and Safety. SECA and its crew will Safely take you and your friends to the best fishing locations and return in comfort.
Most groups Charter our Vessel SECA and pick the friends they would enjoy fishing with. You can choose the time you would like to leave and return. Even choose where you would like to be picked up or dropped off, maybe back to the Metung pub in time for lunch.
Bookings and a deposit are essential to fit you in...

or email Sarn:
This email address is being protected from spambots. You need JavaScript enabled to view it.

or call 0434778275

With a max of ten passengers our Offshore Boat Charter trips are a great way to spend some time with your family and friends while exploring some great fishing locations. So next time you want to head out Offshore fishing at Lakes Entance, with your mates or on your own, try Lakes Charters onboard "SECA"

Our goal is to provide an enjoyable boating/fishing adventure for you and your group.

"SECA "Just For Kicks"